All of our puppies are handled on a daily basis.They are groomed on a grooming table and everything your pup will need to know for a professional groomer he will learn before he turns 8 weeks. All of our puppies leave here mostly , if not totally, crate trained, with a basic knowledge of sit, and come. They learn to walk on a leash but they are so lovable, they would rather be with you than wander off anyway. Contrary to popular belief, a puppy will bond with whomever leads it. There is no timetable for bonding. We have had many adult dogs whose names we changed when we got them and they have no trouble figuring out who you're calling. We encourage you to visit as many breeders as you can before making a decision. Your puppy will be with you for many years. We feel that after you visit many breeders you will see the difference a small home based operation can make in the early stages of a puppy's life. We do, however, request that you don't come to visit our pups within 48 hours of visiting another breeder in order not to bring any contagion to our facility. All our dogs and puppies are wormed and vaccinated on a veterinarian's schedule. We are now offering our families grooming services. Check out our Grooming page. Please note: We do not ship our pups. They want to meet you in person before they go home with you. We are located in South Western Pennsylvania, in Avella, it's not far from Pittsburgh. Even though we don't ship our pups we have pups from coast to coast. People seem to be willing to drive and fly from all over the country to our little Avella hamlet to get the best Goldendoodle pal you'll find.
******************************************************************************
This is the remaining pup in the litters going home in July. Call now for special pricing!
Oriana/Tumbleweed Multigens  (71% poodle). (55-65 lbs) Born 5/10/17. There is 1 gold boy still available. He is ready to go home now.
Amber and Geronimo pups are here. There are still 2 girls and 2 boys available. They will be ready to go home Aug. 26th. They will be 40-45 lbs.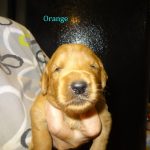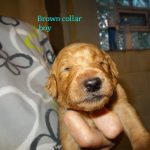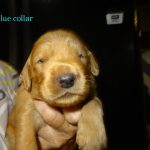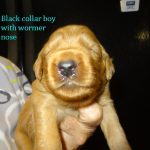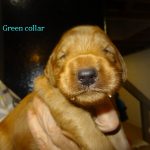 Puppy picking will begin Aug. 5th.
Poppy had another big beautiful litter with Jaxxson. They will be 55-70 lbs. There are 5 females and 6 males. Both of the brown/white "tux" pups are spoken for. The males are 1 black/wh tux. 1 black, 1 gold, 1 choc. 1 cream/apr. & 1 br./wh tux. The girls are 1 br./wh tux, 1 cream, 1 black, & 2 solid choc. They'll be ready to go home 9/6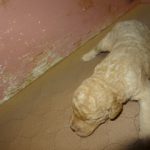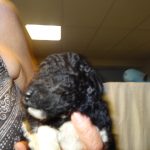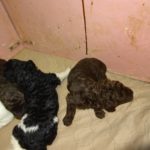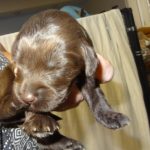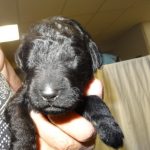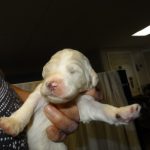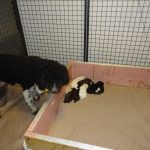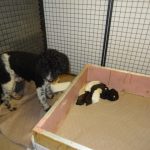 Puppy picking will begin on Aug 16th
********************************************************************************
Congratulations to all of our newest family members. See you at the reunion in June. Don't forget to send us pictures now and then, we love seeing our little ones growing up.
Here's some of our favorite shots of' our previous pups: