The newest member of our family. He is TBoone's grandson, Topaz's son and the sweetest boy you'll ever meet. We have waited two years to get this young man and can't be more excited to see his offspring.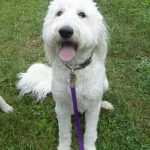 This is our TBoone/Sapphire pup we are hoping will  take over for his dad in the not too distant future. He is weighing in at about 45 lbs.  Since Jaxxson is his grandad, we were counting on him to be able to produce parti pups as well as cream so we were absolutley thrilled with… Read more »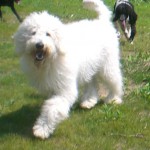 Yankeedoodle Dandy (aka T-Boone) is our home raised English cream Goldendoodle. Beau is his dad and Angel is his mom. He definitely rivals his dad for laid-back, but just might outdo him in lovable.
We have chosen each of our prospective dads for their temperament and personality traits, as well as body and coat types. We are able to produce a varied selection of pups in coat color, and type and they all have the great personality we want in our own dogs.