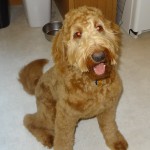 Meet Geronimo. He is a bit smaller than our other dads for pups averaging in the 40-50 lb range. He is a sweet happy-go-lucky kind of guy. Never met a stranger. He makes beautiful red and apricot pups.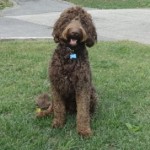 Jaxxson is our latest addition to the family. He is a chocolate goldendoodle, who's dad is a parti-poodle and mom a golden retriever. He produced some spectacular chocolate and parti pups this spring. We can't wait to see them grow up.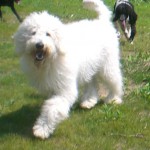 Yankeedoodle Dandy (aka T-Boone) is our home raised English cream Goldendoodle. Beau is his dad and Angel is his mom. He definitely rivals his dad for laid-back, but just might outdo him in lovable.
We have chosen each of our prospective dads for their temperament and personality traits, as well as body and coat types. We are able to produce a varied selection of pups in coat color, and type and they all have the great personality we want in our own dogs.