We have 2 adults that will be ready for their new forever homes in August.
 Nellie will be 6 yrs old June 9th. She is 55 lbs and 24″ tall. Very sweet personality, would be good with bigger kids. She's not high energy and walks well on leash. She'll be ready to go home the first week of August.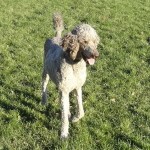 Brown Sugar Baby turned 5 yrs old April 6th. She is about 27″tall and weighs in at 65lbs. She's a low energy girl and will require a quieter environment. Someone who's looking for somebody to walk with is her cup of tea. She'll be ready to go home the 3rd week of August.

Our retirees make great family pets.
Here's a couple of testimonials:
Hi Pat!
We are so thankful for our two beautiful, wonderful, outstanding dogs. They are so good and play together so well. We are very fortunate to have them.
Have a wonderful Thanksgiving full of blessings from above.
Patti & Dave
Hi Pat,
Just wanted to let you know that Spencer has settled into her new  home. She is one happy (and rather spoiled) poodle!  She loves her    walks and prances around the neighborhood…she will let the boys  walk her, but is a bit protective of them around strangers.  The two  cats have made it clear to her where she falls in the pack order  around here and she won't go near their food…but will step right out of the way for them to eat her food…they aren't best friends,  but seem to get along well enough…no hissing or blood at least.     Spencer's favorite time of the day is going to get the boys off the  school bus.  She gets so excited to see them and stands patiently  while all the kids in the neighborhood pat her and rub her  ears…too cute.  She plays and plays and then crashes out every  night on a dog bed in the boys room…doesn't move until I come to  get her in the morning.  She is such a great dog and we are loving  having her as a member of the family.
Happy Holidays!
Kathie, Jim, Max, Dex, and Spencer!